Year Two Art Project - Dragons!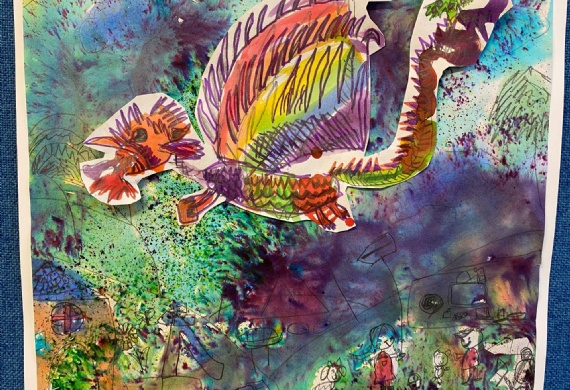 In Year Two we read "Tell Me a Dragon" by Jackie Morris and we looked at her beautiful illustrations of dragons.
We drew our own dragons, adding patterns and textures with pencils and pens.
We also explored drawing high and low horizon lines when drawing a background scene.
We used Brusho in two different ways to paint our pictures of dragons. We painted on dry paper to create the dragons, and we painted on wet paper to create the backgrounds.
We also sprinkled salt and dry Brusho on the backgrounds to add more texture to the paintings.
Noah said, "I like the dragon flying over the volcanoes breathing fire to the rain clouds, so the sun will come out! I love the volcanoes!"
Leo said, "I like the fire and the salt. The salt made it look like it is jumping! I liked painting and putting the sprinkles on".
Amaya said, "I like that it has different colours and I like the details. I liked doing the wings best".
Gemma said, "I liked doing the patterns on the back of the dragon and thinking about real textures".
Click here to see some more examples of our Dragon art work.
Click here to see the poetry that the children wrote, alongside their artwork.
Jackie Morris is reading her book here: https://www.youtube.com/watch?v=MAdG102siOU&t=13s