Wind Chime Competition 09.02.18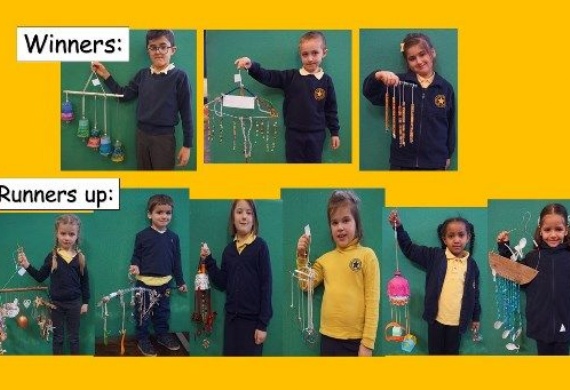 WOW!! The Windchimes have been AMAZING!!!
There has been a excited buzz around school during the last few weeks and it's all about wind chimes!
It has been fantastic to see such an up-take from the children and parents to design and make a wind chime. It is especially lovely to see where the children have had the original concept and then dads and mums have helped to put them into action. Staff have been really impressed with the unique designs as well as the number of families who have taken part. The children have loved showing their wind chimes to their classmates and it has been lovely to see so many parents and visitors to school admiring the wind chimes in the foyer.

Due to the volume and high standard of the entires to the wind chime competition, it has been extremely difficult to choose a winner from each year group! Class teachers were each asked to nominate a child who they felt had enthusiastically taken up the challenge and who could talk about their design and finished product. Mrs Martin and Miss Avis then chose a winner from each year group. Prizes were awarded to the winners and runners up in Certificate Assembly this morning.
Well done to all our winners who are pictured here!

Every child who took part in the competition will bring home a participation certificate. Photos of some of the wind chimes can be found in the Gallery section of the website titled "Windchime Competion".
Thank you to all the parents who have supported thier children. We hope you have enjoyed carrying out a family project together! A huge well done to all the children who took part!!!