New Equipment - New Skills!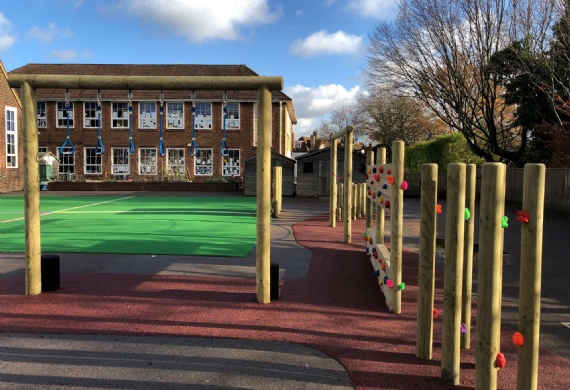 We have been very excited this week to finally get to play on our new playground equipment.
Last summer we put in a bid for money from the government sugary drinks levy and we were successful in our bid for £25,000. The purpose of the project was to give children access to facilities that would improve their confidence, resilience, core strength and co-ordination. In particular, we are aware that many children struggle with writing because they haven't yet built up this core strength, which impacts on fine motor control. With the money we were awarded, we were able to fund two separate developments:
Installing an area of artificial grass sports surface to provide a safe ball games / sports area. The aim of this is to increase the confidence and resilience of the children when playing team sports through the provision of a safer playing area.
Installing a "Trim Trail" to encourage more children to participate in active play, developing their core strength and co-ordination, leading to better gross and fine motor control as well as greater confidence and resilience.
It has been a real pleasure to watch the children already developing their skills on the trim trail! They really are gripping on with determination on the monkey bars, rope bridge and traversing wall – each day getting a little further or trying a new technique. We also put in some new benches so that they can rest after all their efforts and chat to their friends about their achievements! Click here to view our photo gallery!
Thank you so much to Chris and the team from Pentagon Play (www.pentagonplay.co.uk) who provided such sound advice and installed our fabulous new equipment.