English - Reading, Writing and Phonics
At Garden Suburb Infant School, we prioritise the development of each child's ability to communicate effectively and purposefully in English.
We aim for our children to foster a love of reading, that will also feed into an enthusiasm for writing. We base our curriculum around good quality key texts, that reflect the diverse backgrounds of our children, and lead them to sources of knowledge and information as well as imaginative worlds beyond their own experience. We aim to create a rich and inspirational reading environment, giving our children opportunities to hear, share and engage with quality texts in a range of genres.
Reading is an important life skill, and we aim for our children to enjoy reading, read widely and to have age-appropriate fluency, prosody (pitch, stress and timing) and comprehension. Our reading curriculum is designed to provide a balanced and engaging approach to developing reading skills, which include both decoding and comprehension.
Writing is closely linked with the development of reading, and builds on the skills and experiences our children develop through their reading activity and access to literature. Across the school, we are aiming for the same endpoint - children who write clearly, accurately and coherently with a sense of purpose across a range of genres. We
aim for our children to develop good handwriting, using accurate spelling. Our choice of high-quality texts, with opportunities for first hand experiences, is designed to inspire our children to want to compose stories and ideas, both orally and in writing.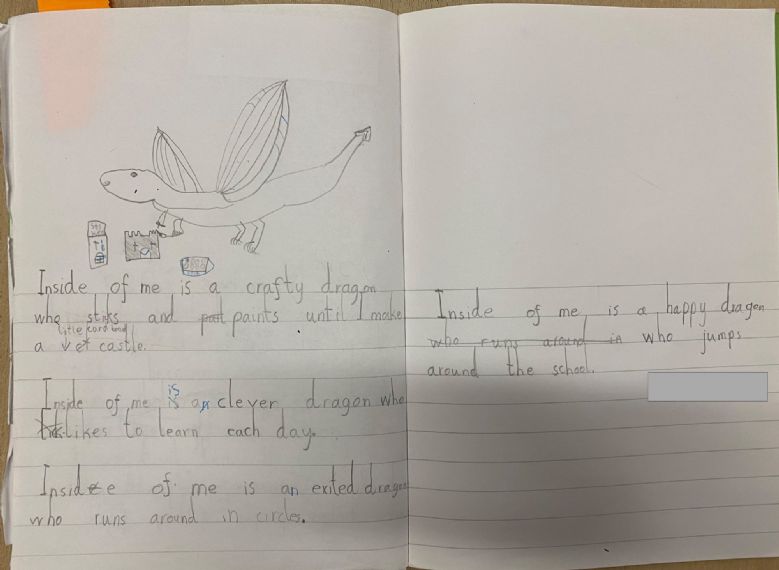 Phonic knowledge and skills are crucial in enabling our children to progress in their reading and writing. They develop this through daily phonic lessons, with regular reading sessions throughout the week. The children thoroughly enjoy phonic lessons and take part with enthusiasm.
We recognise the right of each child to develop their ability to speak and listen, read and write in the English language, appropriate to their age and previous experience. We aim to ensure that, through our curriculum and school environment, children begin to acquire the necessary literacy skills to allow them to become lifelong confident and competent users of English. We expect the teacher's own speaking, listening, writing and reading of English to support the development of children's language and vocabulary.
We prioritise the teaching of English language and literacy skills because:
They are vital to the children's future social and economic wellbeing.

They provide children with the means to express, communicate and extend their ideas, views and feelings

They enable children to access the ideas, views and feelings of others.

They enable children to access all other areas of the curriculum which become increasingly reliant on the ability to read and write in English.
Click on the "Reading and Phonics" and "Writing" tabs, to access more information about these areas of English.
Click on the document below to read our Curriculum Intent for English.